Best Buy has the "Matte Gold" Google Nexus 6P at $50 off, throws in $25 gift card
3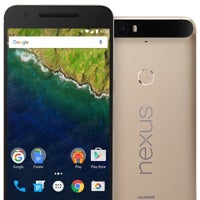 Ever since late last month, Google and Best Buy have been offering the
"Matte Gold" version of Huawei Nexus 6P at a $50 discount
, but now it looks like Best Buy has decided to include a $25 gift card with each purchase.
Both the 32GB and the 64GB version of the golden
Google Nexus 6P
are included in this offer. Overall, you'll have to pay $449 or $499, depending on the version. Google offers the phone at the same price, but without the additional $25 Best Buy gift card, which is valid with both online and physical store purchases and doesn't have an expiration date.
At a starting price of $449 and with a $25 gift card included, the Google Nexus 6P is a rather attractive purchase for those looking for a premium phablet and have an inclination towards gold-colored handsets.
As you'll notice by heading over to our detailed
Google Nexus 6P review
, we found the phablet's strong points to include an all-metal build with a unique design, a stock Android 6.0 Marshmallow implementation with the promise of timely updates by the end of 2017, a smooth performance ensured by the Qualcomm Snapdragon 810 chipset and the 3GB of RAM, as well as a responsive fingerprint scanner.
On the downside, we noted that there's room for improvement when it comes to the camera, the display, and the battery life.
What do you guys make of Best Buy's promotion on the "Matte Gold" version Huawei Nexus 6P?