Deal: Google now selling the Nexus 6P in Matte Gold at a $50 discount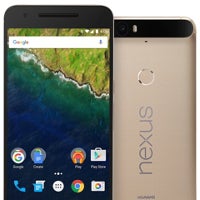 Google and Best Buy are currently offering the
Google Nexus 6P
at $50 off the usual retail price. The deal is limited to the Matte Gold version of the Huawei-made Nexus phablet.
Matte Gold is Google Nexus 6P color option which was not available in the US when the phone launched back in October, being only
introduced a few weeks ago
.
Following this price cut, Google and Best Buy are now selling the 32GB version of the Google Nexus 6P at $449, while the 64GB model will set you back $499. Additionally, customers will also get a $50 discount towards a Huawei Watch.
Many may already know this, but it's still worth pointing out that Nexus smartphones do not come with a microSD card slot. As such, you'll have to think twice before choosing the 32GB model, seeing that you won't be able to expand on the internal storage.
If you're in the market for an Android phablet, $449-$499 could be great prices for the current generation Nexus phablet. The Nexus 6P, the first all-metal device in the Nexus lineup, comes with an original design and a premium feel. Furthermore, the phone also comes with a number of other strong points, such as a stock Android version with the promise of timely software updates, smooth performance, and a responsive fingerprint scanner.
The Nexus 6P is not the utopian perfect smartphone: the camera and the display have some shortcomings and the battery life is only average. Make sure to head on over to our full
Google Nexus 6P review
for a detailed analysis.
If a starting price of $449 is out of your budget but you still want a Nexus phone, check out the
Google Nexus 5X
. The smaller of the two current-gen Nexus phones is not as aesthetically pleasing as the Nexus 6P, but it does share many of the advantages and
currently runs at $299 for the 16GB version
and $349 for the 32GB version.