Best Buy Mobile offering free and discounted BlackBerry Storms to Reward Zone members
0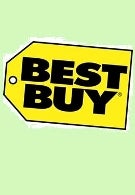 If you signed up for Best Buy's Reward Zone and have spent $2,500 or more on eligible items over the course of a calendar year, you are automatically upgraded to the Premier Silver level. That is important because starting this Sunday and running until June 20th, Silver members of the Reward Zone can get a Verizon BlackBerry Storm for free as long as you sign a two year contract. Other Reward Zone members are eligible to buy RIM's first touchscreen BlackBerry for the deeply discounted price of $49.99, also with a 2 year contract.
If you are not a member of the club, you will need to sign up by Saturday, June 13th. You can do that online by clicking on this
link.
The Best Buy Reward Zone normally gives you a $5.00 credit for every $250.00 spent. During your birthday month, you are sent information on a special offer. No offer that they give you on the month of your birth can be a better deal than getting a free Storm.
RIM BlackBerry Storm 9530 Specifications
|
Review
source:
BGR