Behind the scenes of Motorola's April Fools' Day boot screen animation
3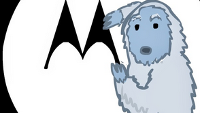 Back on April Fools' Day, which actually was only two days ago, we showed you a clip of
Motorola's boot screen animation
that starred a Yeti, the Loch Ness Monster and a UFO. The majority of those who viewed the animation got a chuckle out of it, which was all Motorola could ask for, after all. Now, the
Google-owned
Lenovo owned subsidiary takes us behind the scenes to show us how the animation was created.
The stop-motion animation took 192 frames to complete. Each character started as a 2D drawing which was turned into a 7 inch puppet. A set was designed and the animation was created. For those of you familiar with
Gumby
, or
The Nightmare Before Christmas
, the boot screen animation came to life in roughly the same manner. After a puppet was photographed, it was moved ever so slightly, and photographed again. When all of the pictures were spliced together, it produced the stop-motion animation.
"For this project, stop-motion was a fun choice. It had a handmade feel for the canvas of the phone, and you could really develop things like fur for the Yeti. It's always more fun when you can see small details." Stop-motion gave the animation a human touch and fit the personal nature of phones, which are always updating."
-Kirsten Lepore, animator
The animation will be available until April 14th. Motorola says that it will offer more boot screen animation in the future.