Barnes and Noble quietly recalls in-store inventory of the Android powered 7-inch Nook tablet
2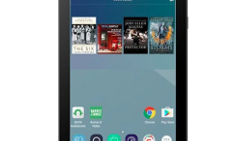 Less than two months after being launched, sales of the affordable Barnes and Noble 7-inch Nook tablet have been halted. The Android powered slate was priced at $49.99 and hit the market just in time for the holiday shopping season. Online, the tablet is listed as not being available. Inside the company's physical book stores, the device can no longer be found. On Reddit, a person claiming to be a Barnes and Noble employee says that earlier this week, the Book Store chain's corporate HQ requested that all remaining inventory of the tablet be shipped back to them.
No reason was given for this decision at first, but it now appears that a faulty charging adapter is the reason for the recall. A company spokesperson revealed that it has received three complaints about the charging adapter casing breaking apart while being plugged in. This is potentially dangerous, and those who own the tablet should refrain from using the adapter until a replacement is handed out. Barnes and Noble plans on issuing a complete recall through the Consumer Product Safety Commission. Until new adapters are sent out to device owners, the tablet can still be charged using a microUSB cable and a USB port on a computer, or a power bank.
Besides the problem with the adapter, the Barnes and Noble 7-inch Nook tablet has a bit of a software issue as well. In December, it was discovered that
the tablet was loaded with the ADUPS malicious software
that had been found installed on smartphones like those made by Miami-based manufacturer BLU. The software monitors and disseminates personal information found on a tablet/phone such as contacts, calls, calendar, locations and more. This data is sent to servers in China without the owner of the device knowing one thing about it.
Barnes and Noble says that the version of ADUPS that is on the Nook is not collecting or sending any information. In addition, last month the company's chief digital officer said that it is working on a software update that will remove the software from the tablet. Barnes and Noble says that users' personal information is safe.
"Barnes & Noble is investigating three reported cases involving the adapter sold with the NOOK Tablet 7. The specific issue involves the adapter casing breaking apart while still in the socket. This does not affect the NOOK device itself. With no injuries reported and out of an abundance of caution, we recommend that customers stop using the adapter until we provide a replacement adapter. In the meantime, the NOOK Tablet 7" can be charged using a computer. We will be providing more information as we work closely with the Consumer Product Safety Commission (CPSC) to determine the details of a public product recall."-Barnes and Noble statement
source:
Reddit
,
AndroidPolice