BB6 on Bold 9700, Pearl 3G and Curve 9300 hands-on video
1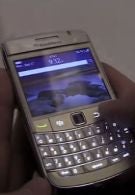 The video below shows the
BlackBerry 6
OS running on AT&T's and T-Mobile's
Bold 9700
, Pearl 3G, and
Curve 9300
. Everything looks predictably smooth, though there were some hiccups.
The reviewer had a little trouble with the new
SureType
keyboard on the Pearl 3G, but they probably just needed practice. There was also a glitch when they made an outgoing call from the Curve 9300, where the contact image was larger than the screen.
These three devices will be the next to operate BlackBerry 6, which is currently only available on the
BlackBerry Torch
. There is, however, a leaked version
available for the Bold 9650
. Thereafter, we can look forward to the updated browser and universal search on the
Bold 9780
.
source:
CrackBerry