BASEBALL NOW for Windows Phone now listens to your voice
6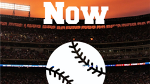 BASEBALL NOW for Windows Phone allows users of the platform to have a choice between this free app and the rather pricey At Bat from MLB. Ok, so you won't have the audio play-by-play of every game that At Bat offers. And you won't have the in-game video highlights that At Bat gives you. The bottom line is that by saving yourself from paying for a Baseball app, you can treat yourself to a burrito and frozen yogurt. Besides, BASEBALL NOW has added voice support. Say "BASEBALL NOW," scores and you're sent to scores of all of the day's games. Say "BASEBALL NOW Miami Marlins," and you are headed to the Marlins team page.
The app brings you news, standings and stats, Live Tile support, the ability to track games in progress pitch-by-pitch, tweets from MLB, and a way for you to support your team and keep track of them by putting their logo on a Live Tile. Unlike At Bat, BASEBALL NOW is not supported by MLB.
With the new season upon us, you can start tracking you team on your Windows Phone by installing BASEBALL NOW, now.
source:
BASEBALLNOW
via
WMPoweruser