Average non-voice mobile use in U.S. to rise past 3 hours a day in 2016
1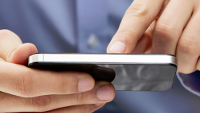 According to a new report from eMarketer, the average adult U.S. smartphone user will spend more than 3 hours a day of non-voice time with his or her smartphone and tablet in 2016. While that is a sharp rise from the 46 minutes of non-voice use that U.S. adults averaged in 2011, the growth rate is dropping sharply. For 2016, the average U.S. adult is estimated to spend 3 hours, 8 minutes on their mobile device not including phone calls. That is a 7.9% increase over last year, down from 11.3% growth in 2015. In 2013, the growth rate was 53.1%, and hit 90.9% in the prior year.
Monica Peart, eMarketer's forecasting director, said that the large number of Americans who already own a mobile device, means fewer new smartphone and tablet users are added each year. Add to that all of the activities that a mobile device can do, and it results in a drop off in the growth rate of non-voice use. Despite the drop in growth, mobile is the only media category expected to show more use next year. Television, radio and newspaper users are forecast to decline in 2016 and 2017, with print media getting hit the worst.
"Also, the number of activities currently possible on mobile devices limits the amount of time a user can spend per day. For these reasons, growth in the amount of time spent on mobile devices will slow down significantly."-Monica Peart, forecasting director, eMarketer
Growth is coming from app use. The average amount of time spent by a U.S. adult on an app will grow next year to 3 hours and 15 minutes, up 10 minutes from this year. Time spent on a mobile browser will remain at 51 minutes next year, according to the forecast. That is up sharply from the 1 hour and 4 minutes that was spent on app use daily back in 2011.
source:
eMarketer
via
NYPost