Asus unveils the VivoWatch BP, a smartwatch with the ability to take your Blood Pressure
2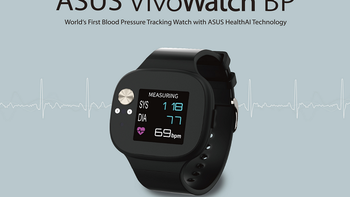 If you need to monitor your blood pressure constantly, the most convenient solution would be to don a smartwatch that can take that reading at your request. Most smartwatches, including the Apple Watch, do not have this feature available. Currently available connected timepieces can track your heart rate (
watching this can save your life as some Apple Watch users have discovered
) and blood oxygen levels. But now, several manufacturers are trying to add this function on wearable devices.
One smartwatch that will take a wearer's blood pressure is the Asus VivoWatch BP. Unlike Omron's HeartGuide, which is a smartwatch that uses an inflatable strap to obtain this reading, the Asus device employs Electrocardiography (ECG) combined with a PPG sensor; the former measures the heart's electrical activity while the latter measures blood flow. Instead of a strap tightly constricting your wrist, the VivoWatch BP system simply requires the wearer to press his or her index finger on the face of the smartwatch.
The entire process of getting a blood pressure reading takes all of 15 seconds with the VivoWatch BP. The device also provides health advice and tips to the user on how to lower his blood pressure thanks to AsusHealthAI. And with a battery that lasts up to 28 days on a single charge, those wearing the timepiece won't have to stress out about charging the watch, keeping their BP down. The smartwatch will also track a user's heart rate, sleep quality and activities.
Asus just unveiled the device at Computex 2018, and there is no word yet on the availability or cost of the VivoWatch BP. As soon as we know, you'll know.