Asus "in search of incredible:" sends invites for event on January 6th
2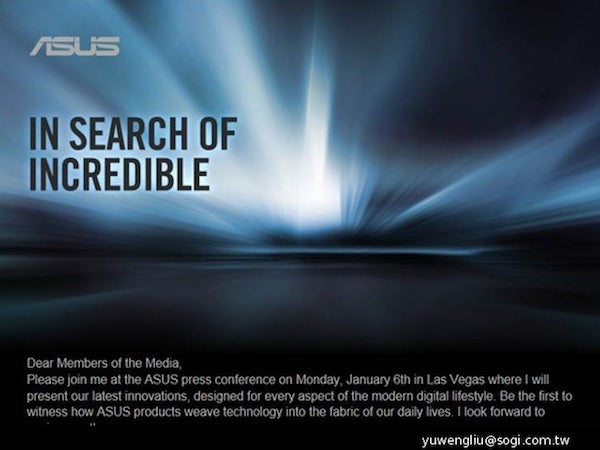 Asus has allegedly sent out press invites for an event on January 6th in Las Vegas, and the company teases it will be dedicated to a "search of incredible." The event is just a day before the official start of CES 2014, the largest US consumer electronics show, and it's the same day when most companies are expected to make their official announcements. Traditionally, this happens before the official opening of the show with only smaller unveilings left for later.
What do we expect to see from Asus? Eccentric chief executive Jonney Shih loves a good show and with devices like the PadFone he has surpassed the imagination of even tech dreamers, so we would not be surprised to see some more ventures into new form factors. What is more likely, though, is a refresh to Asus' line of tablets and transformer devices, and why not even plans to bring them in wider quantities to the United States.
Right now, Asus is not a particularly popular name in the US smartphone market, but it has much bigger success with tablets like the 2012 and 2013 Nexus 7, as well as other Android tablets. Could it finally start pushing its smartphones harder in the US? What are your suggestions?
source:
Android Beat
Recommended Stories