Asus ZenFone 3 and ZenFone 3 Deluxe star in official promo videos
10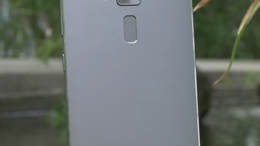 Earlier today, Asus announced three smartphones, all part of the brand new ZenFone 3 family: the 5.5-inch
ZenFone 3
, the 5.7-inch
ZenFone 3 Deluxe
, and the giant, 6.8-inch
ZenFone 3 Ultra
. No release dates were given, but it looks like the ZenFone 3 and ZenFone 3 Deluxe will be the first to reach consumers, as both already star in official promo videos (while the ZenFone 3 Ultra has yet to appear in one).
The ZenFone 3 and ZenFone 3 Deluxe promo videos, which you can watch below, provide an overview of their highlight features, while allowing interested customers to better examine the design differences between the two devices - for example, the ZenFone 3 has a metal frame, and a flat rear that's covered in Gorilla Glass, while the ZenFone 3 Deluxe is an all-metal device with a slightly arched back.
As its name suggests, the ZenFone 3 Deluxe is the superior handset among the two, thanks to high-end features like a Snapdragon 820 processor, and up to 6 GB of RAM. This means that the ZenFone 3 Deluxe is more expensive, prices for it starting at $499, while the regular ZenFone 3 will cost as low as $249.
Until these new Asus smartphones hit the market, you can find out more about them if you check out our
ZenFone 3 series features review
, and our
ZenFone 3 vs ZenFone 3 Deluxe vs ZenFone 3 Ultra specs comparison
.