Asus Zenfone 3 vs Zenfone 3 Deluxe vs Zenfone Ultra: three-way specs comparison
13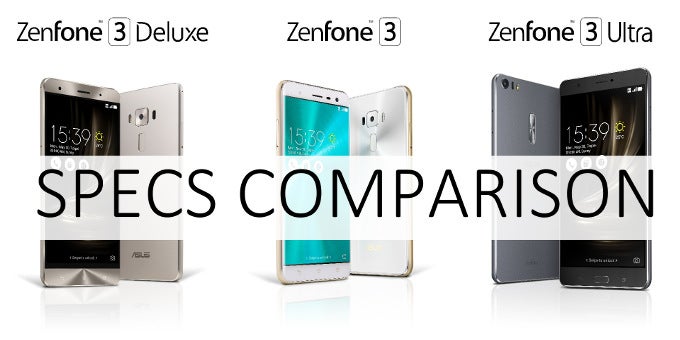 Tip your hats and bid a warm welcome to the Asus Zenfone 3, Zenfone 3 Deluxe, and Zenfone 3 Ultra! Asus' newest trio of phones will have a solid fundament to build on; a fundament established by the market success of the Asus Zenfone 2 and its multiple versions, including the Zenfone 2 Laser, Zenfone 2 Selfie, and so on.
The most impressive of the bunch is undoubtedly the Zenfone 3 Deluxe, a powerhouse by all means and purposes. Equipped with a Snapdragon 820 chipset and up to 6GB of RAM, a 23MP rear camera with EIS (electronic image stabilization) and a Sony IMX318 sensor, and up to 256GB of native storage, it's the most powerful of the bunch.
What about the Zenfone 3 Ultra? For starters, its biggest highlight is it's, well, size — this one is a 6.8-inch phone. Yep, that's almost 7 inches of phone we are talking about! Another highlight is the 4,600mAh battery inside. Apart from these, it's not a particularly high-end device. There's a Snapdragon 652 chip and up to 4 gigs of RAM, as well as the same 23MP camera unit found on the Deluxe.
But what exactly are all the differences between the three? Let's take a closer look, shall we?
Super IPS+ LCD
Super AMOLED
IPS LCD
Scratch-resistant glass, Ambient light sensor, Proximity sensor
Oleophobic coating, Scratch-resistant glass, Ambient light sensor, Proximity sensor
Scratch-resistant glass, Ambient light sensor, Proximity sensor
Qualcomm Snapdragon 625 8953
Qualcomm Snapdragon 821 MSM8996 Pro
Qualcomm Snapdragon 652 8976
Octa-core, 2000 MHz, ARM Cortex-A53, 64-bit
Quad-core, 2400 MHz, Kryo, 64-bit
Octa-core, 1800 MHz, ARM Cortex-A72 and ARM Cortex-A53, 64-bit
Adreno 506
Adreno 530
Adreno 510
Android (8.0 Oreo, 7.0 Nougat, 6.0 Marshmallow), ASUS Zen UI
Android (8.0 Oreo, 6.0 Marshmallow), ASUS Zen UI
Android (6.0 Marshmallow), ASUS Zen UI
Qualcomm Quick Charge 3.0
Qualcomm Quick Charge 3.0
Single camera
Single camera
Single camera
16 MP (Sapphire crystal lens cover, OIS, Laser and PDAF)
23 MP (Sapphire crystal lens cover, OIS, Laser and PDAF)
23 MP (OIS, Laser and PDAF)
Aperture size: F2.0
Aperture size: F2.0; Sensor size: 1/2.6"; Pixel size: 1 μm
Aperture size: F2.0; Pixel size: 1.12 μm
Yes
3840x2160 (4K UHD) (30 fps)
3840x2160 (4K UHD) (24 fps), 1920x1080 (Full HD) (30 fps), 1280x720 (HD) (30 fps)
Time-lapse video, EIS, Video calling, Video sharing
Continuous autofocus, EIS, Video calling, Video sharing
Time-lapse video, Continuous autofocus, Picture-taking during video recording, EIS, Video calling, Video sharing
6.01 x 3.05 x 0.30 inches (152.59 x 77.38 x 7.69 mm)
6.16 x 3.05 x 0.30 inches (156.4 x 77.4 x 7.5 mm)
7.34 x 3.70 x 0.27 inches (186.4 x 93.9 x 6.8 mm)
5.47 oz (155.0 g)
the

average

is 6 oz (172 g)
6.00 oz (170.0 g)
the

average

is 6 oz (172 g)
8.22 oz (233.0 g)
the

average

is 6 oz (172 g)
Back: Glass; Frame: Aluminum
Back: Aluminum
Back: Aluminum
Fingerprint (touch)
Fingerprint (touch)
Fingerprint (touch)
Touch sensitive control keys, Soft keys
Touch sensitive control keys, Soft keys
Touch sensitive control keys, Soft keys