Asus Transformer Book T300 Hands-on
2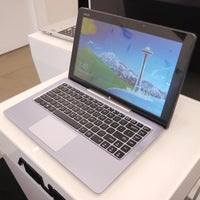 ASUS more or less paved the way for a new product category to emerge – the so-called convertible kind of tablets. They snap into a keyboard dock, thus getting transformed into a portable notebook computer. The new Asus Transformer Book T300 is one such gadget and we got the chance to test it out during IFA 2013.
The first thing that we noticed about it was that the Asus Transformer Book was quite heavy. The tablet itself weighs over a kilo so good luck using it extensively without support, and when it is docked, the contraption tips the scales at nearly 2 kilograms. On the bright side of things, the Transformer Book actually looks pretty nice. It is partially made of metal treated with a brushed finish, which is a pretty nice design touch. Those openings for the cooling system, however, spoil its appearance.
The display on the Asus Transformer Book T300 measures 13.3 inches in diagonal and has a resolution of 1920 by 1080 pixels. While this isn't the most detailed screen we've ever seen, it definitely gets the job done and should suit the needs of the great majority of consumers. Colors on it look great, which actually doesn't come as much of a surprise since the LCD screen is of the IPS variety.
While you probably won't be using the main camera Asus Transformer Book T300 a whole lot, it is still nice that the device has one. It is pretty basic, however, so don't expect fabulous shots. Of course, a front-facing snapper is available as well, along with stereo microphones for better video conversations.
Overall, the Asus Transformer Book T300 is shaping up as a promising Windows 8 convertible device. It comes with some pretty capable hardware under its hood and the 13.3-inch touchscreen is pretty decent as well, not to mention that the device looks pretty good. However, we're still kind of disappointed by the sheer weight of the Transformer Book as it hinders its portability. That's the price one has to pay if they need a high-performance tablet/laptop combo and absolutely must have the Windows ecosystem and software support at their disposal.