Apps are already appearing for the BlackBerry PlayBook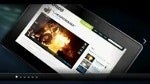 When the BlackBerry PlayBook tablet appeared to
demo some apps
at an Adobe MAX keynote, it looked as if the basics, like a music and media player, are already covered. The PlayBook SDK for Adobe AIR was just released Monday, and a few days later some apps are already popping up.
Citing the ease of use of the SDK, some developers have demoed applications they have quickly sketched out, or ported over to the new tablet. The eUnity app from Client Outlook that was demonstrated at the Adobe presentation, is a collaboration tool for medical images. MobiHealthNews is quoted to say that the developers ported eUnity over to the BlackBerry PlayBook in the duration of two hours, thanks to the slick software development kit that RIM has created.
Other developers are pointing out the same thing. A CrackBerry launcher, and a browser for the PlayBook have been coded in a matter of hours, confirming again the flexibility of the development platform. By the time the tablet hits shelves, there will probably be hundreds of applications written for it, since developers are being lured with the promise of a free PlayBook, when their Adobe AIR-based applications are approved for App World, prior to the tablet's launch. Below is a video demo of a simple browser for the BlackBerry PlayBook, which was created for 2.5 hours total. Let the coding begin.
source:
BlackBerryDevBlog