Apple's iPad accounted for more than 71% of Q3 tablet sales in China
2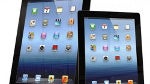 Apple's iPad line might have
given some ground to the influx of affordable Android slates in the US last quarter
, but with the rehash of the new iPad and the cheaper iPad mini launch in Q4 the ratio will most probably rise up again in the iPad favor, just like in the spring when the 3rd gen iPad launched.
Not only that, but Apple's tablets are seemingly making strides in China, says Analysys, after the
naming scheme patent resolution with ProView
. The third quarter saw the Chinese tablet market increase 62.5% year-on-year, and the whopping 71.42% of those sales went to Apple. We can only imagine what will happen this quarter, with the cheaper
iPad mini
there, and the
iPad 4
launch.
Next in line is, naturally, the country's favorite Lenovo, followed by the Eben brand, which is hardly heard by anyone outside of China, but is making pretty decent sales anyway.
Analysys: Leading tablet vendors in China market, 3Q12

Vendor

Market share

Apple

71.42%

Lenovo

10.52%

Eben

3.61%

Samsung

3.53%

Acer

3.03%

Asustek

1.74%

Teclast

0.96%

Ramos

0.53%

Aigo

0.29%

Motorola Mobility

0.26%