Apple continues to lose tablet share to Android
31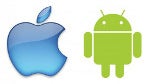 Just yesterday, the news came out that Apple had retaken the
top spot in smartphone market
share on the heels of the iPhone 5 success, but it looks like the news isn't all good for Apple as it has continued to lose tablet market share to Android. Of course, just like the smartphone market share, this may not be indicative of an overall trend.
As we mentioned in the smartphone market article, Apple's market share tends to get a boost in Q4/Q1 because of its early fall release pattern, then Android will come along and reclaim the lost share in Q2/Q3, mostly on the back of the new Samsung Galaxy S model which usually hits in February/March. Given that Apple looks like it has shifted its tablet release to the fall as well, with the announcement of the iPad mini and iPad 4 last month, we may start to see a similar pattern with the tablet market.
According to new numbers from ABI Research, Apple's iPad still made up a majority of tablet shipments in Q3 of 2012 at 55%, but that the company still ended up losing 14% of the share to Android, namely Samsung, ASUS, and Amazon. Since Amazon is included, it should be noted that the numbers do reflect all Android-based tablets, and not just Google Android tablets. Interestingly, ABI is also predicting that the iPad mini will not help Apple reclaim any market share because the 7" tablet market is one that is already dominated by Android.