Apple's iBookstore now lets you gift e-books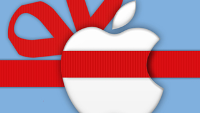 Apple has finally added the ability to gift e-books through its iBookstore, just in time for the holidays. Well, iOS users have been able to gift apps, music, movies, and TV shows through iTunes for a long time, but up until now the gifting option has been unavailable in the iBookstore.
The procedure to send an e-book as gift is quite similar to how one would gift other types of content in Apple's online stores. Once you choose the desired book to give away, you can access the "Gift" option via the "Share" button on your iOS device. Then you'd be asked to enter the recipient's email and the sender's name. If you feel like it, you can even send a short message to the person, who is about to receive a fancy new e-book. Before you pay, you can choose to either send the gift right away or postpone it to a later date (December 25, for example).
However, one should be aware that e-book gifting, just like any other service of the Cupertino giant, requires the recipient of the gift to be in the same country as its sender. When it comes to Apple, the option to make a gift to someone, who is on the other side of the world, is still a chimera.
source:
MacWorld
via
SlashGear