Apple updates iWork, iMovie and GarageBand for iOS
2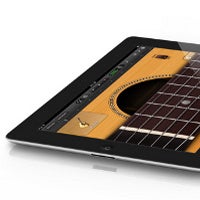 Along with the newly introduced
iPhoto for iOS
, Apple has updated some of the most downloaded and comprehensive iPad apps out there - iWork, iMovie and GarageBand.
1.
iWork
- Pages, Numbers and Keynote for iOS have all been bumped up to newer versions. The price for each still stands at $9.99, but it's a free update if you've already purchased them. The updated iWork apps are already available in iTunes.
The three apps are now tailored to best fit the new high-res display and have some performance improvements, but little change apart from that.
2.
iMovie
- $4.99, free update
The application got updated with advanced editing tools. You can now create movie trailers and preview music and sound effects. The fun is augmented with nine genre templates and soundtracks from famous composers. You can also beam 1080p movies via AirPlay, and share them to YouTube and other social services.
3.
GarageBand
- $4.99, free update
The third member of the now full iLife suite for iPad (including iPhoto, iMovie and GarageBand) is also getting updated for best viewing on the high-res Retina display. Additionally, you get "Smart Strings" to strum or play around other instruments easier, and a note editor to jot down musical ideas.
Probably the best new feature, though, is "Jam Session" allowing you to connect up to 4 devices wirelessly and start making music together simultaneously.
Here's Apple's detailed explanation:
With the new Jam Session feature in GarageBand, you can invite up to three of your friends to get together and wirelessly connect your iOS devices to play and record as a group. Jam Session automatically synchronizes the tempo, key and chords of your Touch Instruments so everyone sounds great. After jamming, everyone's tracks are automatically collected on your iOS device for you to edit and mix. GarageBand also introduces Smart Strings, a new Touch Instrument that allows you to play an entire string orchestra with just one finger, and the new Note Editor allows you to fine tune a Touch Instrument recording instead of replaying it from scratch. Integration with iCloud keeps your GarageBand songs up to date across your iOS devices, and you can share your finished songs directly to Facebook, YouTube and SoundCloud.
We wonder if this means that kids playing instruments would finally sound good. Hopefully, in the meantime, the update is now available for free on iTunes.
source: Apple