Apple unveils iPhoto for iOS
1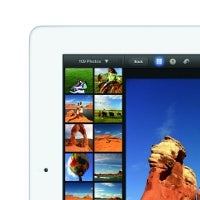 Apple has unveiled iPhoto - a photo editing power application for the new iPad. With a mind-boggling Retina display - a 2048x1536-
pixel
9.7-inch display, the third iPad looks like a great tool for photo manipulation and Apple gives you the tools for that.
In a nutshell, iPhoto for the iPad is all about image editing - effects, manipulation and sharing photographs between devices. It's highlights are:
- Multi-touch editing
- Professional-quality effects
- Brushes
- Photo beaming - sharing from device to device
- Photo journals - with maps, dates, notes and even weather
Now, going into more detail we'd add that iPhoto also supports comparing images of up to the massive 19 megapixels in size.
The application also publishes your applications to the iCloud and gives you a link so that you can share around.
iPhoto is available now, for $4.99 on iTunes.