Apple reportedly teaming up with Amex, Visa and MasterCard for iPhone Wallet
48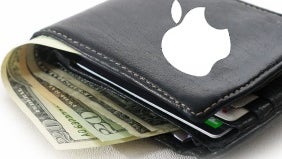 Your next Apple iPhone will double as a wallet, if speculation about partnerships between Apple and a trio of well known credit card companies is true. On Sunday, rumors starting spreading that Apple was going to announce partnerships between itself and American Express, Visa and MasterCard. The partnerships are expected to be announced
during the same September 9th event
that will finally out the
Apple iPhone 6
, said an anonymous source who wished to remain unknown because the talks are private.
This rumor ties in with other speculation. Just the other day, we passed along a rumor that claimed that
the Apple iPhone 6 was going to feature NFC connectivity and a new mobile payment system
. The latter is something that
Apple CEO Tim Cook has been interested in for a long time
. Currently, there is a case made for select versions of the iPhone,
that turns it into a mobile wallet using an NFC micro-chip and a free ISIS mobile wallet app
. ISIS is the service owned by AT&T, Verizon and T-Mobile.
A feature that might make the iPhone a useful mobile wallet, is the Touch ID fingerprint scanner. Touch ID could be used to verify the identity of someone making a payment using the handset. For Apple, it is all about generating revenue. With over 800 million iTunes accounts, all with payment information on file, Apple might be set to make a bundle. It is estimated that Apple could generate $300 in advertising revenue for each mobile wallet account it opens.
"There's huge potential with Apple having a market-defining opportunity. However, there's lots of moving parts in payment that make the deals they did with artists and Hollywood for iTunes look like child's play."-Richard Crone, CEO, Crone Consulting LLC
source:
Bloomberg