Golden Master version of Shortcuts app is released by Apple
14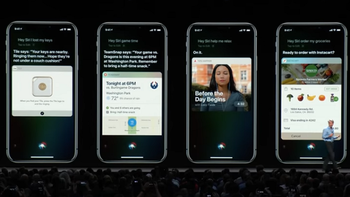 The new iOS Shortcuts feature allows iOS users to set up a chain of events for their iPhone to follow, activated by saying a single phrase to Siri. For example, say "Siri, I'm on my way home" and Siri can adjust your thermostat to reflect the fact that you like living in a meat freezer. At the same time, a text can be sent to the missus telling her to start dinner so that it will be ready as soon as you walk through your front door. You can also arrange for a certain radio station to stream over your handset while Apple Maps opens to help guide you home through the evening commute.
Today, Apple released the Golden Master of the iOS 12 Shortcuts app. During the period when iOS 12 was in beta, only developers had access to the Shortcuts app. This means that next week, when iOS 12 finally launches, users will get their first hands-on experience with the app. The final version of Shortcuts includes new actions that weren't offered on the beta version of the app.
Apple will disseminate iOS 12 starting around 10am PDT (1pm EDT) this coming Monday, September 17th. New features include Memoji, which are animated emoji-esque creations that look like and move like you, and the new Screen Time feature. The latter tracks your iPhone and iPad usage (and your children's usage as well) while allowing you to cap the amount of time that certain apps can be used each day. iOS 12 also adds four new Animoji (Koala, Tiger, Ghost, or T. Rex), and
when it is finally launched later this year
, Group FaceTime will allow as many as 32 users to video chat with each other at the same time.
While Apple released the final version of the Shortcuts app today, it won't be available until iOS 12 is released in three days.