Apple iPhone X vs Samsung Galaxy Note 8 vs LG V30: specs comparison
52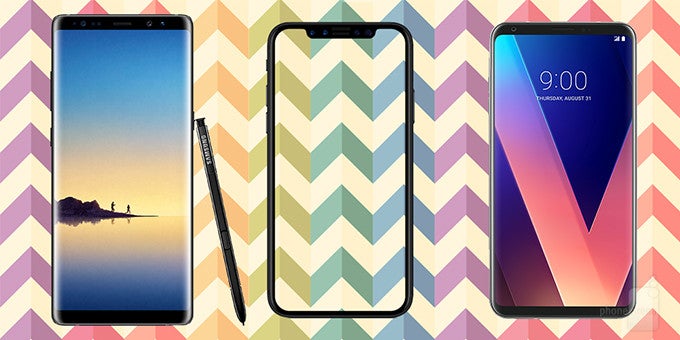 With the iPhone X now official, it's time to compare it against some of the best Android devices out there, namely the Galaxy Note 8 and the LG V30.
You saw that coming, right? We mean, that's essentially the cream of the Android crop at the moment, thus comparing Apple's most advanced iPhone yet with these two monsters is quite natural.
Snapdragons go against Apple's own chips, productivity features clash, and classy bezel-busting designs wage war on one another, vying for their place in your pocket.
Here goes:
HDR support, Pressure-sensitive, Oleophobic coating, Scratch-resistant glass, Ambient light sensor, Proximity sensor
HDR support, Scratch-resistant glass, Ambient light sensor, Proximity sensor
HDR support, Oleophobic coating, Scratch-resistant glass, Ambient light sensor, Proximity sensor
Apple A11 Bionic APL1W72 (10 nm)
Qualcomm Snapdragon 835 MSM8998 (10 nm)
Qualcomm Snapdragon 835 MSM8998 (10 nm)
Hexa-core, 2390 MHz, Monsoon and Mistral, 64-bit
Octa-core, 2350 MHz, Kryo 280, 64-bit
Octa-core, 2450 MHz, Kryo 280, 64-bit
Apple 3-core GPU
Adreno 540
Adreno 540
256GB, not expandable
64GB
64GB
iOS (15.x, 14.x, 13.x, 12.x, 11.x)
Android (8.0 Oreo, 7.1 Nougat), Samsung Experience UI
Android (9.0 Pie, 8.0 Oreo, 7.1 Nougat), LG UX UI
USB Power Delivery
Qualcomm Quick Charge 2.0
Qualcomm Quick Charge 3.0
22.00 hours
the

average

is 11 h (660 min)
16.50 hours
the

average

is 11 h (660 min)
21.00 hours
the

average

is 0 h (0 min)
15.2 days (365 hours)
the

average

is 20 days (472 h)
3G: 12 hours; LTE: 13 hours; Wi-Fi: 14 hours
Dual camera
Dual camera
Dual camera
12 MP (Sapphire crystal lens cover, OIS, PDAF, CMOS image sensor, BSI sensor)
16 MP (OIS, Laser and PDAF)
Aperture size: F1.8; Focal length: 28 mm; Sensor size: 1/3"; Pixel size: 1.22 μm
Aperture size: F1.7; Focal length: 26 mm; Sensor size: 1/2.55"; Pixel size: 1.4 μm
Aperture size: F1.6; Focal length: 30 mm; Sensor size: 1/3.09"; Pixel size: 1 μm
12 MP (Telephoto, Sapphire crystal lens cover, OIS, PDAF, CMOS image sensor, BSI sensor)
12 MP (Telephoto, OIS, Autofocus)
13 MP (Ultra-wide)
Optical zoom: 2.0x; Aperture size: F2.4; Focal Length: 52 mm; Sensor size: 1/3.4"; Pixel size: 1 μm
Optical zoom: 2.0x; Aperture size: F2.4; Focal Length: 52 mm; Pixel size: 1 μm
Aperture size: F1.9; Focal Length: 12 mm; Sensor size: 1/3.4"; Pixel size: 1 μm
3840x2160 (4K UHD) (60 fps), 1920x1080 (Full HD) (240 fps), 1280x720 (HD) (30 fps)
3840x2160 (4K UHD) (30 fps), 1920x1080 (Full HD) (60 fps), 1280x720 (HD) (240 fps)
3840x2160 (4K UHD) (30 fps), 1920x1080 (Full HD), 1280x720 (HD) (240 fps)
OIS, Time-lapse video, Continuous autofocus, Video light, Video calling, Video sharing
Time-lapse video, Hyperlapse, Continuous autofocus, Object tracking, Picture-taking during video recording, Video light, EIS, Video calling, Video sharing
HDR, Time-lapse video, Continuous autofocus, Object tracking, EIS, Video calling, Video sharing
7 MP
8 MP
5 MP
1920x1080 (Full HD) (30 fps)
1920x1080 (Full HD)
5.65 x 2.79 x 0.30 inches (143.6 x 70.9 x 7.7 mm)
6.40 x 2.94 x 0.34 inches (162.5 x 74.8 x 8.6 mm)
5.97 x 2.97 x 0.29 inches (151.7 x 75.4 x 7.39 mm)
6.14 oz (174.0 g)
the

average

is 6 oz (171 g)
6.88 oz (195.0 g)
the

average

is 6 oz (171 g)
5.57 oz (158.0 g)
the

average

is 6 oz (171 g)
Back: Glass; Frame: Stainless steel
Back: Glass (Corning Gorilla Glass 5); Frame: Aluminum
Back: Glass (Corning Gorilla Glass 5); Frame: Aluminum
Water, Dust; IP67
Water, Dust; IP68
Water, Dust, Shock; IP68; MIL-STD-810 certified
3D Face unlock
Iris scanner, 2D Face unlock, Fingerprint (touch)
2D Face unlock, Fingerprint (touch)
Notification light, Stylus