Apple iPhone X vs Google Pixel 2 XL vs Galaxy Note 8 vs LG V30: Specs and size comparisons
22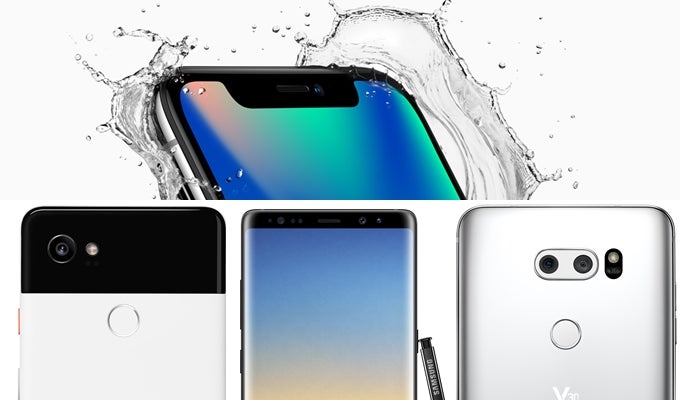 It's now clear what the main antagonists for late 2017's smartphone championship are - the upcoming Apple
iPhone X
, the Google
Pixel 2 XL
, the exceptional Samsung
Galaxy Note 8
, and finally, the LG
V30
. An exceptional round-up of devices, for sure, with each vying for its rightful place in your pocket. But with the hefty premium prices that almost all of these command, you will most likely want to narrow your choice to a single of said devices. Sorry, three will have to go with only one spot available!
So, which one should you pick?
The
Apple iPhone X
is a new chapter in Apple's history, featuring a rather flashy new design, an OLED HDR-capable display, an intriguing face-scanning Face ID camera up front, the iPhone X is on its way of being Apple's most advanced phone yet. And this commands a premium - $999, to be exact, which is already stepping over the psychological barrier of a thousand dollars.
The brand new
Pixel 2 XL
is a device that aims to put Google on the map, and from what we've seen so far it has a rather good chance of doing that if El Goog doesn't stumble upon any supply issues. The demand is there, but from the looks of it, you will have to wait long if you want to get one of these before Halloween.
The
Galaxy Note 8
is easily the most-spec'd out phone out there right now, boasting almost anything but the kitchen sink in its deep feature bag. Aside from the excellent hardware and head-turning design, the Note 8 turns things to 11 thanks to the S Pen - the Note 8's single most important feature.
Finally, the
LG V30
is easily the most affordable of the bunch, but don't let this fool you, it doesn't skimp on hardware or design for that matter. Even more, it has found its own niche - LG's latest top-shelf phone aims to be the multimedia phone to beat out there, with a bevy of multimedia and video-related features on board.
Size comparison
So, here's how all four of these high-end devices stack up against one another as far as size goes.
Apple iPhone X vs Google Pixel 2 XL vs Galaxy Note 8 vs LG V30
Specs comparison
With size out of the equation, it's time to compare the specs of the four devices and see how the stack up.