Apple iPhone 7 tickles users' fantasies more than the iPhone 6s did
54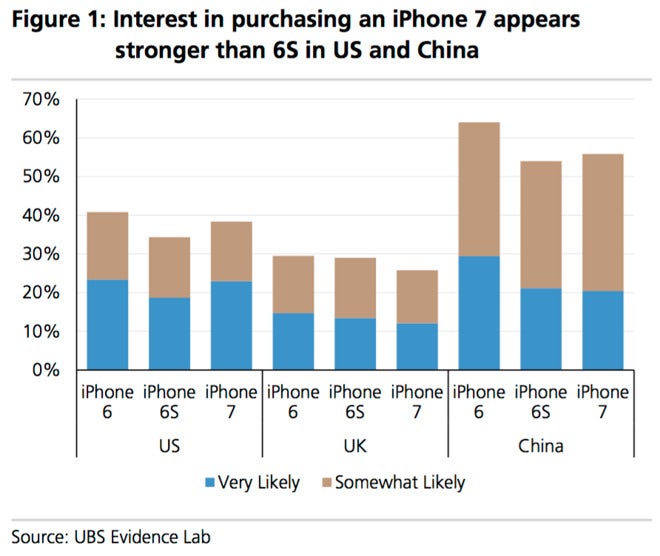 The
iPhone 6s
sales might be
somewhat disappointing for analysts
, but not for Apple, which warned a quarter ago that it will see the first year-on-year decline in iPhone sales, as the market for high-end smartphones matures. The upcoming
iPhone 7
, however, might change that equation, as an UBS Evidence Lab survey shows.
The research arm of the investment bank is one of the largest in the sell-side analysis realm, and recently it probed 6,336 smartphone users from Apple's main markets - the U.S., U.K., Germany, mainland China, and Japan. The survey question was how interested they were in Apple's upcoming 2016 handset, dubbed iPhone 7. Well, it turns out that users in the US and China - Apple's bread-and-butter markets - are more interested in the iPhone 7 than they were with the iPhone 6s last year, when UBS did the same survey.
It's not hard to fathom why - after all, the 6s was an intermittent upgrade, and the design stayed the same, while the iPhone 7 is expected to introduce visual changes,
do away with the audio jack altogether
, have an optical zoom tucked somewhere in a
7 Pro version
, and have all sorts of other excitements that the mere inclusion of 3D Touch in the 6s can't measure up with. We'll see if this preliminary interest translates into better sales, but for now things are looking up for the iPhone 7.