Apple shares hit 52 week low on Friday as stock remains pressured by sellers
85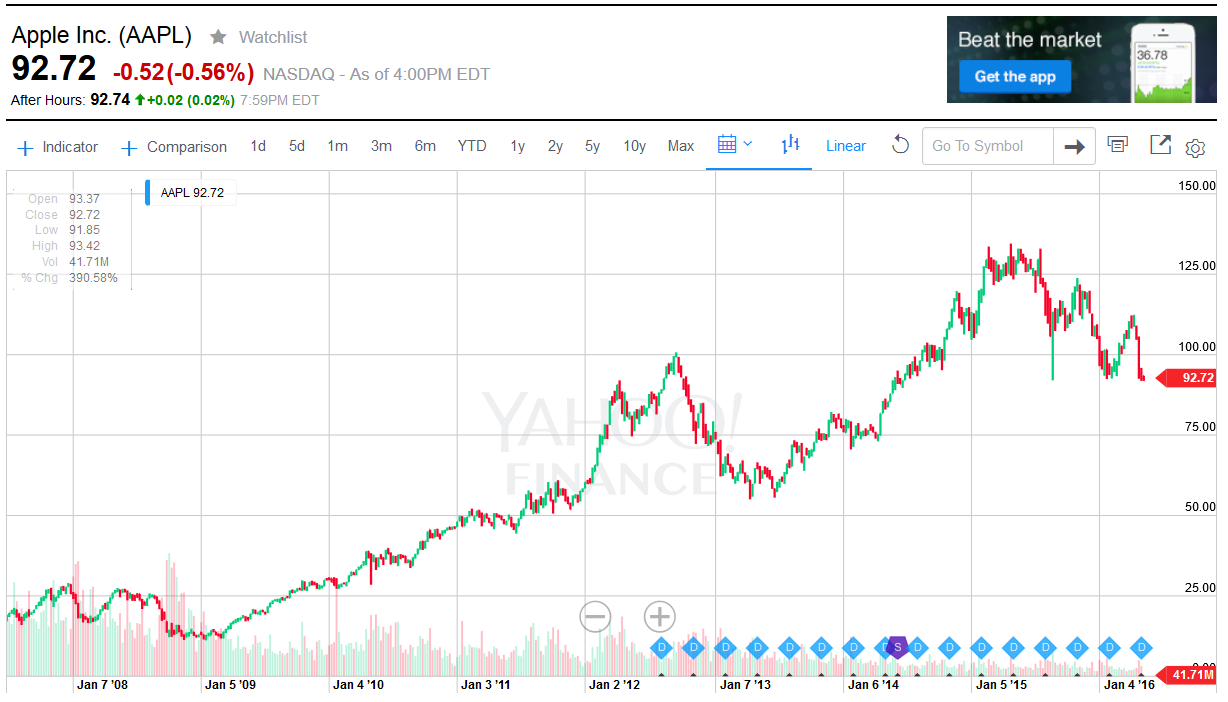 Apple's shares from the day the first Apple iPhone launched, to present. Chart courtesy of Yahoo Finance
Apple's shares hit a low on Friday of $91.85 before closing at $92.72. Friday's low is significant because it is Apple's new 52 week-low. The 52-week high is $132.97. Apple's stock has been declining since April 26th when it announced its fiscal second quarter earnings report. While the company earned $10.5 billion for the three months, it was
the first quarter in the history of the iPhone that showed lower sales year-over-year
.
How important has the success of the iPhone been to Apple's stock? On January 9th, 2007, when
Steve Jobs introduced the Apple iPhone at MacWorld
, Apple's shares were a split-adjusted $12.17. On June 29th of that year, the date that the iPhone launched, the stock was trading for a split-adjusted $16.05. The all-time high was set on July 20, 2015 at the aforementioned price of $132.97.

The last time Apple's stock traded lower than seen on Friday was on June 27, 2014, when it hit a low of $90.77. But back then, Apple's shares were rising. Now, they are falling which is making plenty of big Wall Street traders nervous. Carl Icahn, who amassed a large position in the company, sold for a reported $2 billion profit. He blamed the Chinese government for the stock sale, complaining that they are making things difficult for Apple in the country. The investor said he would consider buying back some shares once the situation in China is stable.



And as usual on that street called Wall, it is all "what have you done for me lately?" That is why some bloated Hedge Fund traders, full of self importance and impatience, are beginning to demand that Apple can CEO Tim Cook and replace him with a "visionary" like Steve Jobs. The problem with that is that guys with Jobs' vision aren't easy to find. Besides, many believe that Tim Cook has done a fabulous job running Apple.

With a market capitalization of $502.74 billion, Apple remains the world's most valuable company thanks to a similar decline by Google parent Alphabet. The latter is valued at $495.56 billion after dropping more than 7% in the weeks following a recent earnings report.