Apple iPhone 6 vs HTC One (M8) vs Sony Xperia Z3 Compact: specs comparison
12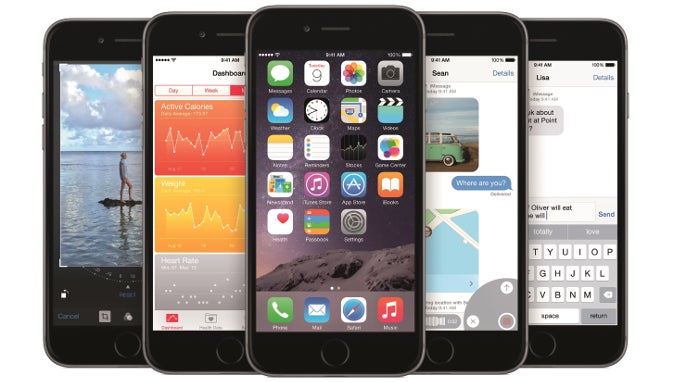 It's here, folks, the
Apple iPhone 6
is finally here! The just-unveiled 4.7-inch champion marks Apple's foray into bigger-sized smartphones, as up until now Cupertino had only produced devices with up to 4-inch displays. This trend is over, however, and the new iPhone is marks a new beginning for Cupertino, a more direct clash against the Android competition.
Then again, packing comparably weaker specs than the power-laden, top-tier Android competition has not prevented previous iPhone flagships from being on par with their Android contenders. It is highly unlikely that the newest member of the iPhone lineup will stray away from this trend. That said, the new Apple iPhone 6 will surely wage war on a duet of Android rivals that have already been on the market for quite some time now.
One of these is HTC's One (M8) flagship, which is often lauded for its exquisite design. The other one is Sony's recently-unveiled munchkin powerhouse, the
Xperia Z3 Compact
. As usual, we are eager to put the three devices against each other in an improvised specs showdown. Hopefully, this will give us (and you) a clearer picture about which device has the upper hand, at least on paper. Of course, you be the judge.
Ambient light sensor, Proximity sensor
Oleophobic coating, Scratch-resistant glass, Ambient light sensor, Proximity sensor
Ambient light sensor, Proximity sensor
Qualcomm Snapdragon 801
Apple A8
Qualcomm Snapdragon 801 8974-AC
Quad-core, 2300 MHz, Krait 400
Dual-core, 1400 MHz, Cyclone ARMv8-A 2nd gen., 64-bit
Quad-core, 2500 MHz, Krait 400
Adreno 330
PowerVR GX6450
Adreno 330
32GB
128GB, not expandable
16GB
Android (6.0 Marshmallow, 5.0 Lollipop, 4.4.3, 4.4), HTC Sense UI
iOS (12.x, 11.x, 10.x, 9.x, 8.x)
Android (6.0 Marshmallow, 5.1 Lollipop, 5.0 Lollipop, 4.4)
Qualcomm Quick Charge 2.0
Qualcomm Quick Charge 2.0
12.00 hours
the

average

is 11 h (660 min)
10.4 days (250 hours)
the

average

is 29 days (688 h)
36.7 days (880 hours)
the

average

is 29 days (688 h)
20.00 hours
the

average

is 0 h (0 min)
14.00 hours
the

average

is 0 h (0 min)
14.00 hours
the

average

is 0 h (0 min)
20.7 days (496 hours)
the

average

is 0 days (0 h)
38.3 days (920 hours)
the

average

is 0 days (0 h)
33.3 days (800 hours)
the

average

is 20 days (472 h)
3G: 10 hours; LTE: 10 hours; Wi-Fi: 11 hours
Dual camera
Single camera
Single camera
8 MP (Sapphire crystal lens cover, PDAF, BSI sensor)
20.7 MP (Autofocus, CMOS image sensor)
Aperture size: F2.0; Focal length: 28 mm; Sensor size: 1/3"; Pixel size: 2 μm
Aperture size: F2.2; Focal length: 29 mm; Sensor size: 1/3"; Pixel size: 1.5 μm
Aperture size: F2.0; Focal length: 25 mm; Sensor size: 1/2.3"; Pixel size: 1.12 μm
1920x1080 (Full HD) (60 fps), 1280x720 (HD) (120 fps)
1920x1080 (Full HD) (60 fps), 1280x720 (HD) (240 fps)
3840x2160 (4K UHD) (30 fps), 1920x1080 (Full HD) (60 fps)
HDR, Video light, Video sharing
Time-lapse video, Continuous autofocus, Picture-taking during video recording, EIS, Video calling, Video sharing
HDR, Continuous autofocus, Picture-taking during video recording, Video light, EIS, Video calling
5 MP
1.2 MP
2.2 MP
1920x1080 (Full HD)
1280x720 (HD)
1920x1080 (Full HD)
5.76 x 2.78 x 0.37 inches (146.36 x 70.6 x 9.35 mm)
5.44 x 2.64 x 0.27 inches (138.1 x 67 x 6.9 mm)
5.00 x 2.56 x 0.34 inches (127 x 64.9 x 8.6 mm)
5.64 oz (160.0 g)
the

average

is 6 oz (171 g)
4.55 oz (129.0 g)
the

average

is 6 oz (171 g)
4.55 oz (129.0 g)
the

average

is 6 oz (171 g)
Back: Aluminum
Back: Aluminum
Back: Glass; Frame: Plastic
Splash; IPX3
Water, Dust; IP68