Apple iPhone 5s box and accessories up for bid on eBay, phone not included
75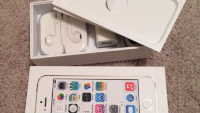 Here's a story to chew on this weekend. Someone has put up on eBay the 16GB Gold
Apple iPhone 5s
box and accessories, and the current bid is $227.50. Did we forget something, like oh, the phone? Nope. The price includes only the box and the accessories that come with it like the ear buds and charger. It's all very strange considering that if you sign a two-year contract with a carrier, you can pick up the phone for $199.99.
So far, there have been 14 bids placed on the box and accessories, starting with one for $79.99. The auction ends on Sunday night which means that there is still time for many more bids to come in. But keep in mind that this doesn't add up. The ear buds will cost you $29 from Apple, and the Lightning charging cable shouldn't be more than about $30.
If for some reason you feel like shelling out a ridiculous amount of money for a box, ear buds, a charger, and some printed material, go right ahead. But we think that the majority of our readers would actually prefer to find a phone in the box.

The box for the 16GB Gold Apple iPhone 5s is being auctioned off on eBay
Thanks Anonymous Tipster!
source:
eBay