Apple iPad 5 and Apple iPad mini 2 appear together one more time
22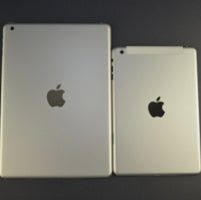 Last week, we showed you a rather long 11 minute video
that compared the alleged casing of the Apple iPad 5 with a casing belonging to the Apple iPad mini 2
. On Thursday, some more pictures of the pair were leaked directly from Sonny Dickson. Since the Australian teen had the shells of the
Apple iPhone 5c
and
Apple iPhone 5s
before anyone, we do advise you to consider the strong possibility that these are legitimate.
The one thing that we've noticed since the
Apple iPad 5
shells first leaked, is that the larger screened slate is taking its design cues directly from the Apple iPad mini 2, which in turn looks just like the OG mini. From the volume rockers through the smoother corners, the next 9.7 inch Apple iPad will resemble an Apple iPad mini 2 on steroids. In addition, the Apple iPad 5 will be thinner and lighter than its predecessor, partly due to a film based touchscreen technology that also is stolen from the iPad mini.
We still don't know when the next-gen Apple iPad units will be introduced, but we would imagine that Apple will at least wait for the launch of the two new Apple iPhone models on September 20th. It wouldn't makes sense for Apple to interrupt all of the media attention being lavished right now on the new phones.
source:
GigAom