Apple iPad 5 aluminum back housing leaks, confirms iPad mini-like redesign
32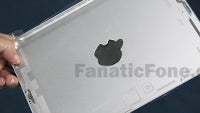 The rear aluminum housing of the upcoming fifth-generation iPad has just leaked out and it confirms that the device will indeed come redesigned to look like the iPad mini.
Apple has managed to cut down the side bezel on the iPad 5 making the device much more compact. While the current fourth generation iPad (just like all previous models) is 185.7mm wide, the new iPad 5 manages to narrow this down to merely around 168mm. The difference is 17.7mm - that means the new iPad will be nearly 0.7 inches narrower. The height of the device is expected to remain almost the same.
The new iPad also looks much more like an iPad mini - the volume rocker is no longer really a rocker, but now divided into separate volume up and down buttons. The iPad 5 is also getting dual stereo speakers located at the very bottom of the device, surrounding the Lightning port.
It also seems that Apple has changed slightly the position of the rear iPad camera and now its closer to the edge, but still on the top left hand side.
source:
FanaticFone