Apple iPad 2 reaches the rest of the world, lines start forming now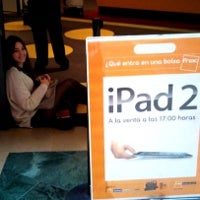 Apple's iPad 2 made its offficial debutin the States, but as stores stateside suffer from shortages anddelivery times have grown to the discouraging over 4 weeks, the restof the world is getting the iPad today. Launch time is 5pm in most countries, but waiting lines have already startedforming. Unlike the huge queues in the US, we're looking at smalleryet nevertheless ludicrous lines of people waiting for a gadget. The second-gen tablet will be made available in 25 additional countries today including Canada, the UK, Australia, New Zealand, France and Germany.

When it comes to pricing, there couldbe some differences as prices in Canada for example, start from $519for the 16 gig Wi-Fi only model and ranging to $849 for the 64GBversion with 3G radio. But this won't stop people from getting the "thirdpost-PC blockbuster" product, will it? Especially given that no other similar product currently on the market matches that price point. But if you want a more substantial evidence than just our word for it, checkout the footage and images below.
source: TwitPic and MobileSyrup