Apple fans from across the world line up for the iPhone 5, here are videos from the lines
99+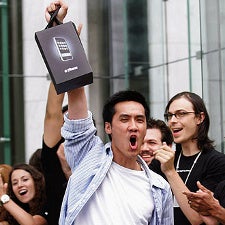 Today is the day for Apple fans - the
iPhone 5 is finally launching
and if you live in one of the few countries - the United States included - where the device launches today you'd see the usual lines and you'd hear the shouting and the cheering.
If you've never been that religiously obsessed with the iPhone, though, it's possible that you haven't yet witnessed the madness of the tens of people camping out and sleeping in their chairs in front of Apple Stores, reserving a place in the lines forming for the iPhone 5.
Don't worry, you don't have to go there and do it yourself - you can just check out the videos below where Apple Geniuses are counting down the time and high-fiving an obviously excited crowd. You can't mistake the weird overmuch joyous atmosphere of an Apple launch with nothing else.
Did you lineup for the iPhone 5 desperate to get it RIGHT NOW? Or did you prefer to keep your sanity and wait a couple more days for pre-orders to quietly arrive? And what do you think about all this hype? Your comments and opinions are all welcome below.
source:
AppleInsider
,
BGR