Apple could lower the price of the iPad?
15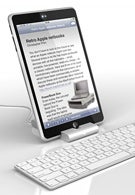 An interesting piece of news has hit the streets, informing that Apple could eventually lower the prices of the
newly-announced iPad
, in case it doesn't achieve the expected success with customers. Apparently, some Apple executives have met with Credit Suisse analyst Bill Shope to discuss the future of the tablet. In addition to talking about the pricing, the Apple execs seem to have ensured that cannibalization could not happen within Apple's lineup of devices, because the iPad has been designed to answer a few specific needs. First of all, the company sees it as a better device for the notebook/handheld user who wants to browse the web, download apps from the App Store and consume mobile media like movies, photos, and e-books. In other cases though, Apple feels an iPhone or an iPod touch for example might be more suitable, so each device will be targeting a different group of users.
You do have an opinion on the matter, don't you? Would you get an iPad, if Apple lowers the price?
via:
WSJ