Apple announces the iPad tablet
99+

Some rumors got confirmed today, others didn't, however what matters is that we finally got what we wanted, from the first Apple tablet speculation until today. Apple finally unveiled the
iPad
. A
9.7-inch tablet
that will proudly fill the gap between the iPhone and the Mac. Or will it? It depends on your specific needs. The greatest disappointment for us is that the iPad will NOT be able to act as a phone. Although there will be 3G models (850/1900/2100MHz for AT&T and Europe but no T-Mobile US) to allow you real mobile experience, phone functionality will not be supported. Period. Yes, you can break down in tears now.
There will be 16, 32 or 64-gigabyte versions, each sporting a
1GHz
Apple A4 processor, Wi-Fi 802.11n and Bluetooth 2.1 + EDR. The battery of the iPad should be able to hold up for a month in standby! (What?) Also, it should deliver about 10 hours of use time. Now, if that means 10 hours of gaming on that thing, we are totally in for it.
The software seems like a neat iPhone OS port, designed to run on the bigger screen. Some apps will be quite similar to what the iPhone offers, while others have gotten a refreshed UI, like the calendar for example. Developers seem to have taken good advantage of the screen so you can now see your events inside a certain day, while in month view. Nice. iBooks will be one of the built-in applications and it will allow you to use the iPad as an e-book reader. There will also be an iBook store where you can purchase titles.
A truly exciting part about the iPad seems to be its
full compatibility
with all the existing App Store apps, which is totally great (and was expected). Here's the deal: you can run the applications in their native resolution of 480x320 pixels, but you can also pixel double, in order to have them run in full screen. Well, you'll lose some of the eye candy this way, but it would be way better than having no apps, right? Now's the time to mention that a new iPhone SDK is now released for devs, that will allow them to easily design their apps for the iPad as well, so they can take full advantage of the beautiful display.
The Apple iPad will be offered with two
pre-paid plans
on AT&T: $14.99 for a 250MB limit, and
$29.99 for unlimited data
, no contract. You will be able to cancel your service whenever you want.
The iPad will be aggressively priced. The 16GB no-3G version will be available for $499. The 32GB one for $599 and the 64GB for $699. The Wi-Fi plus
3G variants will cost
respectively $629, $729 and $829. All unlocked.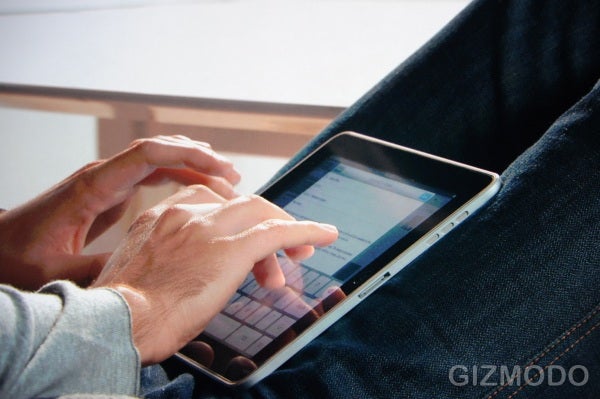 There will also be some nice accessories for the Apple tablet. In short, you can get a dock, a keyboard dock and a case. We feel the first and the third one will be the most popular.
When will it be available? Later. Okay, we'll be more specific – Wi-Fi models will be available for purchase in 60 days, while the 3G models will come in 90 days.
Well, it won't be as exciting as the iPhone, at least for us, but it still sounds like a pretty cool device. A must-have for the gadget maniac.
Check the demo video
here
!
source: Apple via
Ustream
and
Gizmodo