Apple breaks the 128 GB barrier with the iPad 4, starting from $799
99+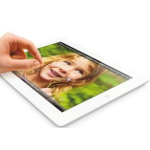 Apple just broke the 128GB barrier for the first time with the iPad line, as it announced a version with that much internal storage of its newest Retina Display
iPad 4
to go on sale February 5.
The slate will have Wi-Fi and cellular models, with the strictly Wi-Fi variant going for $799, while the one with broadband connectivity going for the cool sum of $929.
Phil Schiller, Apple's marketing chief, gave a little pep talk for the launch of the 128 GB iPad 4 version:
With more than 120 million iPads sold, it's clear that customers around the world love their iPads, and everyday they are finding more great reasons to work, learn and play on their iPads rather than their old PCs.
With twice the storage capacity and an unparalleled selection of over 300,000 native iPad apps, enterprises, educators and artists have even more reasons to use iPad for all their business and personal needs.