Apple Store in Corte Madera mall is robbed for the second time in six-months
20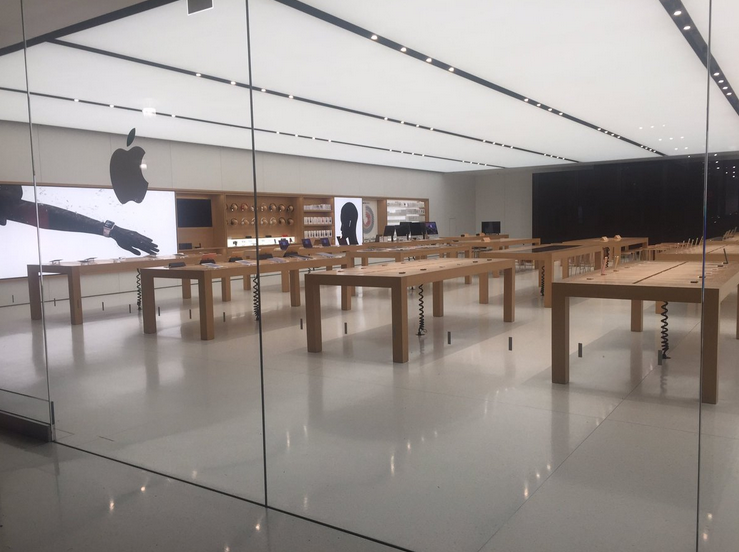 The tables are empty at the Corte Madera Apple Store after it was robbed yesterday for the second time in six months
The Apple Store inside The Village Mall in Corte Madera, California stands out among all other Apple Stores on the planet. The reason why isn't necessarily something to be proud of. You see, twice over a period of six months the store was robbed and a grand total of $64,000 in merchandise stolen. Back last November, robbers made off with $40,000 of Apple devices from the retail location. After a haul like that, you would think that Apple would have tightened its security. But just yesterday, the store was once again a target; this time, five thieves in their late teens or early 20s are accused of committing the crime.
According to a local news report, the burglars entered the store slightly after the 8pm closing time and swiped 17 iPhones, 3 iPads and a pair of computers. The retail value of the gear lifted came to $24,000. The thieves were last spotted running toward the back of Macy's, and for now they have made a clean getaway. Photos taken of the store following yesterday's heist show a few empty tables. Usually, these tables have various Apple devices on them for visitors to test out.
With two robberies over a six-month period, Apple needs to do a better job of protecting its merchandise, but more importantly, protecting customers and employees. The mall containing this Apple Store is an open air mall, which means that robbers can quickly escape once they make their way outside the store with the stolen merchandise in tow.
source:
@amyhollyfield
via
BGR