Apple CEO Tim Cook meets with the Chairman of China Mobile
14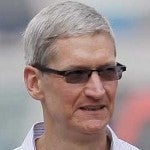 "Currently, Apple has 11 stores in the Greater China region, as well as many resellers. We will continue to expand in China and the number of retail stores we'll have will exceed 25."-Tim Cook, CEO, Apple
Meeting with the Chairman of the
world's largest mobile carrier
, China Mobile, Apple CEO Tim Cook seemed to feel optimistic that both companies could agree to a deal that would finally allow the carrier to offer the Apple iPhone. After the meeting with Xi Guohua, the Apple CEO said that he was optimistic that China would soon become Apple's biggest market in the near future.
Because of its proprietary 3G network,
Apple has never been able to finalize a deal
to have the Apple iPhone available for China Mobile customers, although
millions of unlocked units run over China Mobile's pipeline at 2G speed
. The
Apple iPhone 5
is available via China Telecom and China Unicom and
two million units were sold during the first weekend following the launch of the phone
.
China Mobile's flagship model for now is the Nokia Lumia 920T
, built for the carrier's network.
Cook met on Tuesday with China's minister for industry and information technology and on Wednesday met with top executives from China Unicom.
source:
Reuters