Answer scientific calculations and get exchange rates using your Bing search app on Windows Phone
8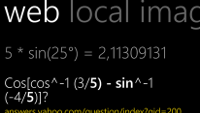 Need to know the answer to a calculation? Those with Google Search know that they can get the answer using the app. Even problems requiring a scientific calculator can be answered using Google Search. And if you need to know exactly how many dollars you can get for 125 EUR, that also is a calculation that Google Search will handle.
The good news for Windows Phone users is that Bing Search also has the same capabilities. Recently added to Bing's desktop application, the feature is also available on Windows Phone. You can press your search button and either enter the problem manually, or speak it using voice command. For foreign exchange conversions, you can type or say "
Convert 125 Euros to U.S. Dollars
." For math problems you can also type in the problem or verbalize it,
While it might not seem like much, it is another little addition to the Windows Phone platform that pulls it up closer to a level playing field with Android and iOS.
source:
WMPoweruser