Angry Birds Seasons updated, now with underwater physics
2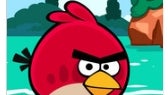 The fun continues with Angry Birds Seasons, which is one of the game's several variations. Right in time for summer, the game has been treated to a major update that adds not only a bunch of new levels, but also introduces different physics to the gameplay.
Birds can now be launched underwater, which changes the way they behave. At the same time, pigs can be annihilated by sinking them in the deep blue.
Seems fun, doesn't it? Well, go ahead then and check out the game on your iPhone or Android smartphone. Download links have been provided below for your convenience.