Angry Birds Space passes 100 million downloads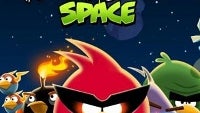 Angry Birds Space is without a doubt the most successful game of the franchise yet - just recently Rovio announced its game passed 50 million downloads in less than 30 days, and now it doubles that.
Angry Birds Space has reached 100 million downloads
, meaning that users are still almost as excited about it as at its launch.
The game has definitely managed to retain the feeling of the original, but the added physics make it much more interesting and challenging. You can check out our detailed
review of Angry Birds Space
to get a better idea, or just download the game and play it as 100 million people seem to do.
Finally, the Angry Birds craze is really an astonishing phenomenon - from plush toys to t-shirts and all kinds of themed apparel, it's everywhere. Even Formula 1 driver Heikki Kovalainen has a helmet with the birds on it. So, it seems like you have no reason not to join the Angry Birds fun now, do you?

Recommended Stories