Android loses ground, iPhone 7 and 7 Plus still top smartphone sales in the US, Q1 data shows
99+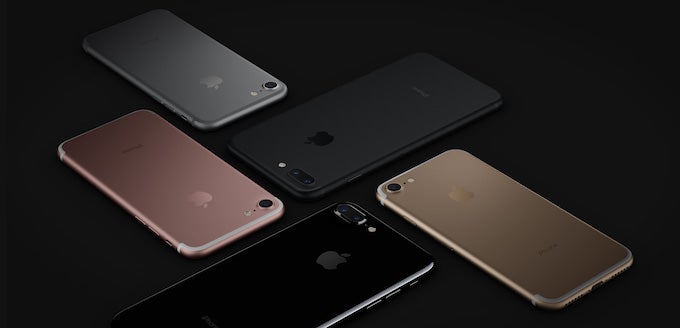 Kantar Worldpanel ComTech released today its Q1 statistics on smartphone OS data, indicating stronger performance for iOS on local ground in the US, compared to the same period, last year. However, iPhone and iOS sales marked drops in Asia, while Samsung and Android did not perform too well on the other side of the globe, in the US.
The US market was dominated by iOS sales that accounted for up to 36.5% of smartphone sales in the country – a 5.8% increase from last year. In this spirit,
iPhone 7
and its larger brother,
7 Plus
, remained at the top of the sales chart in May, with a combined share of 20.1% of all handsets sold in the US. Nonetheless, iOS lost share in urban China in the first three months of 2017, dropping to 16.2%, which is a 3.8% decrease YOY. iPhone 7 and 7 Plus sales in the region accounted for 8.5% of smartphones sold, keeping a lead over Huawei and Oppo.
Android, however, stood strong and captured 83.4% of smartphone sales in urban China, which is a 4.3% increase from last year, and increased its share in Europe by 2.2%. It did not achieve growth in the US, but actually saw a drop of market share of 5.9% from last year, and now stands at 61.7%.
Lauren Guenveur, Global Consumer Insight Director for Kantar, noted that both LG and Moto also experienced YOY declines in the US. Android's performance in the region did not gain much from the launch of
LG G6
and
Samsung Galaxy S8
in March and April. What is more, Ms Guenveur added that S8 and
S8 Plus
will reach a combined share of 8.1% in the three-month period ending in May, which is lower than what S7 and S7 Edge scored.
| | | | |
| --- | --- | --- | --- |
| USA | Q1 2016 % Market share | Q1 2017 % Market share | % Change |
| Android | 67.6 | 61.7 | -5.9 |
| iOS | 30.7 | 36.5 | 5.8 |
| Windows | 1.3 | 1.6 | 0.3 |
| Other | 0.4 | 0.1 | -0.3 |
| China | | | |
| Android | 79.1 | 83.4 | 4.3 |
| iOS | 20 | 16.2 | -3.8 |
| Windows | 0.5 | 0.2 | -0.3 |
| Other | 0.4 | 0.2 | -0.2 |
| EU5* | | | |
| Android | 76.1 | 78.3 | 2.2 |
| iOS | 18.2 | 19.3 | 1.1 |
| Windows | 4.8 | 2 | -2.8 |
| Other | 0.8 | 0.4 | -0.5 |
*EU5 includes Germany, Great Britain, France, Italy and Spain
iOS Posts Period-on-Period Growth in Urban China
Huawei Captures Nearly 9% Market Share in Great Britain

London, June 15, 2017 – The latest smartphone OS data from Kantar Worldpanel ComTech reveal that in the three months ending April 2017, Android and iOS continued to increase their share of most markets. In urban China, Android captured 83.4% of smartphone sales, up 4.3 percentage points from 79.1% a year earlier. However, Android failed to achieve growth in the US, falling 5.9 percentage points to 61.7%, compared to 67.6% a year earlier.

"Android partner brands Samsung, LG, and Moto experienced year-on-year declines in the US," reported Lauren Guenveur, Global Consumer Insight Director for Kantar Worldpanel. "The Samsung Galaxy S8, released in the last two weeks of the April period, did not show a significant impact on Samsung's sales in the period ending in April, nor did LG's G6. Neither of those made the list of Top 10 best-selling phones."

"Early indications in our data for the three-month period ending in May 2017 show that the S8 and S8 Plus will reach a combined share of 8.1% in the US, slightly behind their predecessors, the S7/S7 Edge at 8.8%. iPhone 7 and iPhone 7 Plus remain the top sellers during the May period with a combined share of 20.1%," she added.

iOS accounted for 36.5% of smartphone sales in the US for the three months ending April 2017, a 5.8 percentage point increase over the same period one year earlier.

In urban China, iOS share for the period ending in April dropped year-on-year to 16.2%, or 3.8 percentage points lower than the same period a year ago. For Apple, this was another period of decline in China that began during the three months ending February 2016.

"Importantly, Apple posted a strong period-on-period gain in urban China, rising to a 16.2% share from 12.4% in the first quarter of 2017, which was their lowest since early 2016," said Tamsin Timpson, Strategic Insight Director at Kantar Worldpanel ComTech Asia. "iPhone 7 and 7 Plus sales recovered slightly, now representing 8.5% of smartphones sold in the region, outpacing both Huawei and Oppo models."

In EU5, Android accounted for 78.3 percent of smartphone sales in the three months ending April 2017, increasing 2.2 percentage points from a year earlier. iOS posted a 1.1 percentage point gain to reach 19.3 percent of smartphone sales in the region.

Europe's big five markets include Great Britain, Germany, France, Italy, and Spain.

"Huawei captured 8.9% of smartphone sales in Great Britain during the three months ending April 2017, a 6.1 percentage point increase over the same period a year earlier," noted Dominic Sunnebo, Business Unit Director for Kantar Worldpanel ComTech Europe. "Huawei, who have become the third largest brand across Germany, France, Italy, and Spain, have contributed to the growth of the Android ecosystem, disrupted sales for Samsung and some local brands, and captured those leaving Windows and Nokia. However, the company has historically struggled for share in Great Britain, where Sony and Motorola have been the most popular brands after Apple and Samsung. These latest new figures are the first indications that Huawei is improving its position in Britain."