Android is number 2 operating system, topping iOS in new survey
3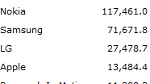 The latest survey from metrics firm Gartner shows that over the last three months, Android and Apple's iOS have flip-flopped with the green robot taking second place and iOS third in the list of the world's most popular mobile operating systems. Symbian retains the top spot.
Android powered 25.5% of the globe's smartphones in the last quarter compared with 16.7% for Apple's software. What an amazing year it has been for Google's open source OS because last year at this time, Android represented a paltry 3% of smartphones while iOS had a 17% slice of the pie. Symbian now controls 36.6%, down from 44.4% during last year's third quarter. With the difference between Symbian and Android less than 10 million units, we could have a new leading OS sometime in 2011.
Overall, sales of cell phones increased 35% year over year in Q3, while smartphone sales soared 96% higher. Other interesting notes showed that 75%-80% of phones sold by Verizon are Android models and that thanks to the omnipresent Samsung Galaxy S, the Korean based manufacturer has moved into second place amongst the world's best performing handset manufacturers. Nokia is still on top with a 28.2% piece of the market, down sharply from last year's 36.7%. LG was third (6.6%), Apple fourth (3.2%) and RIM fifth (2.9%). Both Sony Ericsson and Motorola, 6th and 7th respectively, lost a lot of ground over the past 12 months.
source:
Gartner
Recommended Stories