Android and iOS users can get their kicks with the free FIFA 14 game from EA
11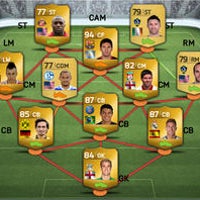 No sooner has Madden 25 been made available to fans of American football with a
free app available for iOS
and
Android users
, than EA has launched the new version of its popular European football game,
FIFA 14
. Outside of one brief era when the New York Cosmos assembled a dream team and were selling out 80,000 seat Giants Stadium in the Meadowlands (Chinaglia, Beckenbauer and Pele were some of the stars that wore a Cosmos jersey in those days), soccer has just not captured much attention in the U.S. Still, the FIFA series is a pretty hot number in America and this mobile version should command plenty of attention globally.
Consider that EA has shoehorned 16,000 players (with their real life abilities) on 600 teams playing in 34 stadiums for 33 leagues into a game that you can follow on your smartphone or tablet. The graphics on the tablet version are true to life so that you will be able to tell Ronaldo apart from Ronald McDonald.
EA has improved the touch controls and even allows you to make trades and create your own team. And while this is a free download for both iOS and Android users, there are plenty of in-app paid options that will make you think that you're paying David Beckham's salary. Three modes, Manager, Tournament, and Kick Off, are only available after shelling out some cash. The game is a rather hefty 1.3GB which means you might finally understand the offsides rule before the game is even done getting installed on your handset.
source: FIFA14 (
iOS
|
Android
) via
Engadget