Android Wear gets previewed at Google I/O
2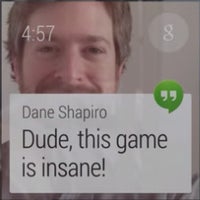 Google's I/O developer conference is going at full steam! We had the chance to see Android's new design features, the company's advancement in integrating its software into cars, and definitely not least, we were given a preview of Android Wear.
For those who need a refresher, Android Wear is a Google platform built for smartwatches and other wearable gadgets. As such, it was shown off on an LG G Watch and on a Moto 360 – the former smartwatch is going on pre-order later today, by the way, while the latter is to launch later this summer. One peculiar feature shown off on the G Watch is that the screen is made to be on constantly, but it won't light up until the user looks at it, as detected by the wearable's sensors. Once on, Android Wear displays information it finds important and relevant, depending on the time of the day, the user's location, and a number of other factors. Notifications are synced with the user's phone – they're displayed at a glance by Android Wear, and dismissing them on the smartwatch clears them from the paired smartphone's notification panel as well.
Android Wear is designed to be simple, yet beautiful, following Google's new Material Design language. Cards float and move smoothly above a textured background and can be dismissed with a simple swipe to the side. Various types of clock faces come pre-loaded, including digital and analog ones, as well as some more extravagant and geeky solutions. At the same time, it is compatible with both circular and square screen form factors, making it even more versatile.
Functionally, Android Wear can do more than just sync notifications between a smartwatch and a smartphone. It lets you search the web, set alarms and reminders, shoot text messages, and basically anything that Google Now can be used for simply by using your voice. Incoming calls can be rejected, picked up, or replied to with an SMS. Naturally, fitness applications can be developed for Android Wear, allowing a smartwatch to double as a fitness device counting one's steps, measuring their heart-rate, and so on. And if you ever want to mute your Android Wear smartwatch, a swipe down is enough to do that.
The Android Wear live is to appear on the LG G Watch and the Moto 360 smartwatches, as well as on the Samsung Gear Live. Further wearables powered by Google's new software are expected to follow suit.