Android Market hits 100,000 apps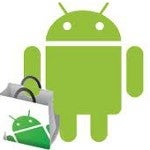 Still quite a distance away from the Apple App Store, the Android Market can now claim that it hosts 100,000 applications. That is still only one-third of the number of selections seen in the Apple App Store. While the momentum has slowed a bit since the end of the Summer, the NY Times is reporting that 200,000 Android units are being activated daily. That is a lot of potential customers for a software developer to have.
According to the "father" of Android, Andy Rubin, 270,000 developers are busy writing apps for Google's open source OS. With all of those developers hard at work, can the Android Market catch up to the App Store? Android's momentum is catching on to some developers. Michael Novak is in charge of Android development at Medialets, a mobile advertising software company. Novak says that Android has gone from being a bit of a mystery to becoming a household name. "I used to tell people I wrote software for Android, and they'd look at me like I had three heads," said Novak, "That wasn't even a year ago. Now everyone knows what it is."
source:
Twitter
via
AndroidandMe
,
NYTimes