Amazon's Silk web browser is ported over to other Android devices
0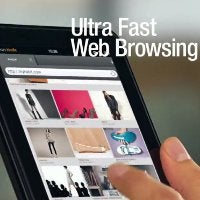 Although it's not the first time we've seen compression based web browsers,
Amazon's Silk browser
on its Kindle Fire has seemingly
proven itself to be a worthy option
when compared to the elites. With its rise to popularity, seeing that the Kindle Fire has been
selling very well
, hackers are paying very close attention to the Silk web browser.
With that in mind, one xda-developers member has somehow managed to
port
over the web browser to other Android devices – though, the full listing of compatible devices are not yet disclosed. Nevertheless, the process in getting the Silk browser is relatively streamlined, seeing that you'll only need to download a package and do some minor tinkering before it's completely installed.
One of the beauties about the Silk browser, as we know, is that it relies on Amazon's
cloud-based servers
to help process the loading of web sites – thus, resulting in lower data consumption. It may not matter all that much for those Android users who are on an unlimited data plan of some sort, but if you're on a small cap, its compression process will surely save you some precious data each month.
Of course, there are other alternative browser out there that offer the same thing – like the
venerable Opera browser
.
source:
xda-developers
via
Electronista