Amazon puts Echo Look app on App Store and Google Play
0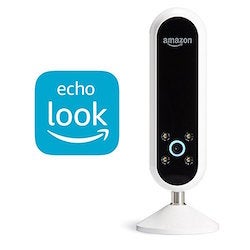 Amazon has just published the mobile app for its upcoming Echo Look device, and you can now download it on iOS and Android devices. The Echo Look is a hands-free camera that is intended to serve primarily as a style checker, but is still only available by invitation only. Amazon has not given any details on possible release date, but has shared enough about the device to get people excited.
The camera lets you take photos or record short videos of yourself, using only your voice. Algorithms then scan your appearance and give you advice on whether your fashion choices make sense, while also providing comparison ratings for multiple outfits. The device is able to 'learn' your styles and picks, and use opinion of professionals to give you the best advice.
The Echo Look is also Alexa-enabled, which means that the device should benefit from an expanding pool of Alexa skills and updates. You should also be able to upload your pictures to Amazon's cloud and easily share them through voice commands. We also reckon that the device will give skill developers from around the world a kick to get creative and generate a whole new niche of cam-integrated Alexa software.
However, before Amazon has made Echo Look available beyond the invitations-only scheme, its difficult to appreciate its full spectrum of abilities, or even fashion taste for that matter. Once it's made available to the wider public, you would be able to purchase it for $199. It's not a bad price, should the gadget deliver what Amazon promises it does.
source:
Amazon
via
Engadget