Amazon might launch a 9-inch Kindle Fire tablet in mid-2012, new 7-inch model coming too
4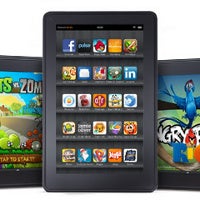 Chad Bartley, who is an analyst for Pacific Crest, is predicting a bright future for Amazon and its Kindle Fire tablet. In particular, he now expects Amazon to sell 14.9 million Kindle Fire units in 2012, which is up from his previous estimate of 12.7 million. And he probably isn't the only one who is being optimistic about the device's sales figures, judging by the fact that it is
one of the most popular tablets out there
.
However, what is more interesting is that Bartley is expecting
"new 7- and 9-inch models" of the Amazon Kindle Fire to launch in "mid-2012"
. As in a successor to the existing 7-inch slate and a bigger counterpart with a 9-inch display.
Of course, we can only guess how the alleged 9-inch Kindle Fire will be marketed and what kind of hardware it will boast, if it ever sees the light of day, that is. On the other hand, we probably won't be wrong if we say that it will try to steal some of the
upcoming iPad 3's cool
. As far as the supposed 7-inch Kindle Fire successor is concerned, a few hardware and software tweaks combined with a tempting price tag might make a recipe for success.