Amazon Kindle HD 4G LTE given the green light by the FCC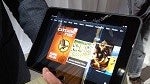 When the new Kindle HD tablets were unveiled last month, one teensy-weensy detail left out of the announcement was that Amazon had not yet received approval from the FCC to sell the 8.9-inch 4G LTE version of the tablet.
That was a bit of risk seeing as how the new tablet had a brand new 4G chip inside. An FCC representative indicated that the approval for the tablet was probably not going to be a problem. Although, it is unusual for a company to make available for pre-order such a device without a nod from the FCC. Amazon has been taking pre-orders and has been listing an availability date of November 20th for both versions of the 8.9-inch tablet, albeit the pre-order acknowledgment emails stated that the device was pending regulatory approval and that Amazon would follow-up to confirm the pre-order once approval was received.
As we have seen here many times, the manufacturers have submitted their devices to the FCC before any dates were confirmed, sometimes before a carrier will confirm or announce the device themselves.
With this news, Amazon will remain on schedule in offering both the LTE and Wi-Fi only versions of the
Kindle Fire HD 8.9
in time for the holidays. If you were waiting to see if the FCC was going to approve the device before you ordered yours, the only concern you might have now is whether Amazon will have enough of their hit tablets in stock.
source:
Reuters