Amazon Kindle Fire HD 8.9-inch hands-on
11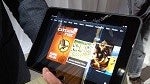 The 8.9-inch Kindle Fire HD, weighing in at 20 ounces, is built around a beautiful looking 1920x1200 HD LCD display which supports up to 1080p HD. Measuring 9.45 inches wide, 6.5 inches tall, and an impressively thin 0.35 inches, the 8.9 Fire HD packs a little more power with a dual-core 1.5GHz OMAP 4470 processor.
Connectivity for all the Fire HD tablets includes dual-band, dual-antenna Wi-Fi with MIMO (multiple-in/multiple-out) which allow the tablet to optimize its connection to Wi-Fi networks, resulting in faster media streaming. The 8.9 inch Kindle Fire HD has a 4G/LTE option. The 4G/LTE antenna operates across all 10 frequency bands.
The 8.9-inch Kindle Fire HD will be available November 20th. For the Wi-Fi only models, pricing starts at very impressive $299 for the 16GB version and $369 for the 32GB model. The 4G/LTE models start at $499 for the 32GB model, and $599 for the 64GB version.