Amazon Kindle Fire owns the U.S. Android tablet market with a 37% share
9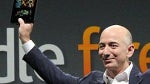 The
Amazon Kindle Fire
tablets are kicking sand in the face of the 96 pound weakling Android tablets in the U.S., according to data released by Localytics. The latter took a look at 500 million unique devices in the course of its business analyzing mobile app data for developers, and found that the U.S. has the lion's share of Android tablet sales globally
with a healthy 59% of sales
. And the tablet that rules the Android tablet market in the states is the Amazon Kindle Fire, with
37% of the U.S. market
. Localytics recommends that Android developers make sure that their tablet based apps are made available for Amazon's App Store. Since the Google Play Store is not available on the Kindle Fire, Android developers could be leaving out a big chunk of potential buyers by not having their apps available for Amazon tablet owners.
"In the meantime, any Android developer with a focus on tablets should be distributing their apps in the Amazon App Store. The degree to which Amazon has dominated their most serious geographical market should speak to the future potential, and since Google Play is unavailable on the Kindle Fire family, adding Amazon's App Store as a distribution channel is important."-Localytics
In the U.S., among other Android slates, the
Barnes and Noble Nook
took second place with a 10% market share while Samsung Galaxy slates were third with 9% of the market. The
Google Nexus 7
was fourth with an 8% market share. Further growth of Amazon's tablet line will seemingly have to come from the release of the low priced tablets to other countries. China would seem to be a great market and with the recent launch of Amazon's app store in the country, we could see the Kindle Fire follow suit.
source:
Localytics
,
TheNextWeb
via
GSMArena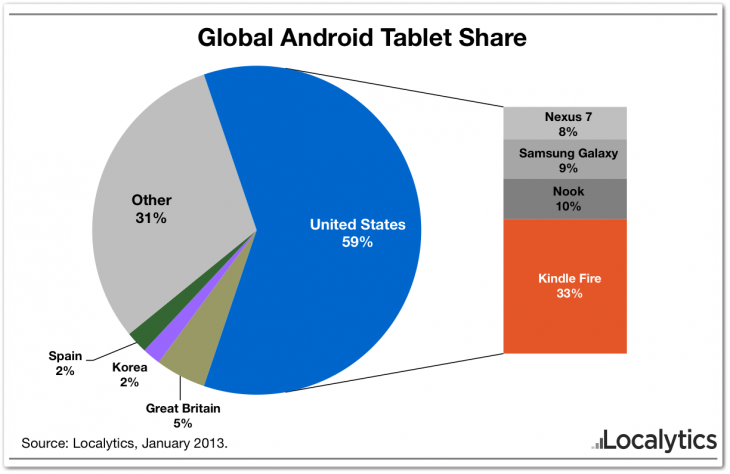 The Amazon Kindle Fire leads the way in the U.S. among Android tablets